Deadline: February 28 (books will ship in approximately early April)
The deadline has passed. If you wish to order the book, please simply order the book from the stock on hand.
Ever since it was released in 1995, An Introduction to ESOPs has been our most popular publication. It explains the rules, uses, benefits, and other aspects of employee stock ownership plans (ESOPs). Service providers often buy it in quantity to give to contacts who may be considering an ESOP, decision-makers at ESOP companies, board members, etc. Companies buy them and give them to ESOP committees, managers, board members, or even every employee. We periodically give our members the opportunity to order it in bulk, often with a customized cover, before we go to press. We are doing that now for the 19th edition (pictured here), which will go to press at the end of February. Only NCEO members can preorder this; if you want to do so but aren't a member, then join first.
Pre-Publication Offer
If you order by Friday, February 28, you can preorder the 19th edition as follows:
The minimum quantity is 100.
This offer is open only to NCEO members.
The per-book price is $1.75, discounted from the regular member price of $2.
You also will pay shipping.
We will invoice you after the books ship to you directly from the printing plant.
You optionally may customize the cover with your logo and/or contact information, etc., in full color (see below for details). We charge an additional $300 for this, which covers the added cost from the printing plant, etc.
For details on the 19th edition and on customizing your cover, see below.
How to order
Contact Scott Rodrick at srodrick@nceo.org by February 28, and by sometime before that if you want to customize your cover. You will not pay upfront, because we will not know the exact quantity or shipping charge until the printing plant sends Scott the bill in April. He will bill you after that (see below).
Need fewer than 100, or need some immediately?
You can always order any quantity of the current edition without a customized cover. We have plenty on hand. Just order from our Web site or call us at 510-208-1300.
About the 19th Edition
An Introduction to ESOPs has evolved over the years from a stapled booklet to a short perfect-bound book with an index. It is 6 x 9 inches in size and 60 pages long. The 19th edition updates the existing material as of 2020, including a rewrite of the valuation of the valuation chapter done in consultation with NCEO founder Corey Rosen.
Excerpts from the 19th Edition
For a PDF of the entire cover, click here.
For a PDF of the table of contents and the first page of several chapters, click here.
Customizing Your Cover
Please note: We must go through the entire process of obtaining your logo, producing a PDF of a proposed cover, and obtaining your approval before the order deadline of February 28, so if you want a custom cover, please email Scott Rodrick as soon as possible.
You have the option of having your name, logo, etc., printed in the empty white space on the front cover. Your information (text and/or logo) will appear under the heading Compliments of (see the image below). The cover is printed in full color (CMYK), so your information can be in full color. If you retain the photo of the crowd of employees, the maximum area your information can take up is about 1.25 inches high by 4.7 inches wide. If you choose to occupy the entire bottom of the cover by removing the photo of the crowd of employees, the maximum area increases to about 3 inches high by 4.7 inches wide.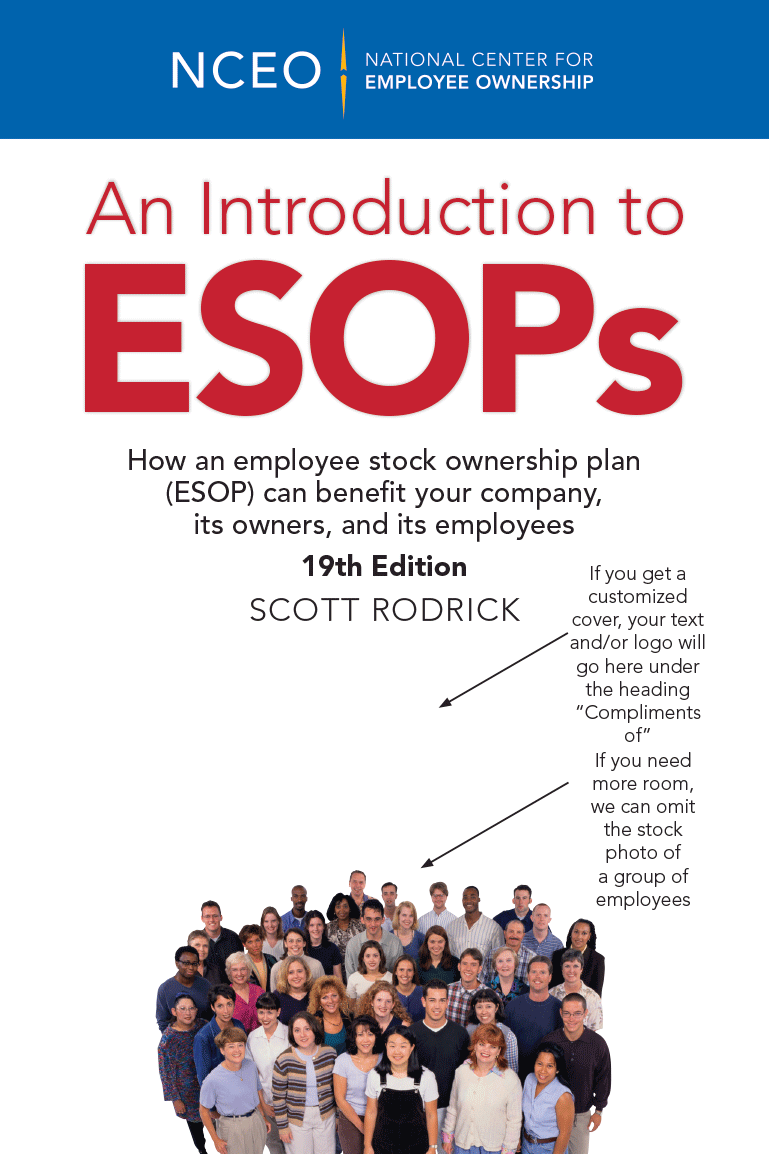 If you want your logo printed on the cover, you must provide the logo (1) as a separate file (not placed in a Word document or pasted into an email, for example) and (2) in high resolution, suitable for printing (not a logo taken from your Web site, for example, or any JPEG or GIF file). Preferably, it will be a CMYK AI (Illustrator) or EPS file, (or a CMYK TIFF in certain situations). If a designer is creating or saving such a file for this purpose, tell them that we use Illustrator CS6 and Photoshop CS6, and it would be nice to get it in a format we can open with those programs. Any AI or EPS file must have all text converted to curves/outlines.
If you get a customized cover, we will email you a PDF of how it looks, and we will not go to press until you are satisfied with the cover and have emailed your approval.
Custom cover quantities may vary slightly: The printing plant will print a few extra books because some may get chewed up as they go through the printing and binding process, so if you order, e.g., 300 cutomized books, then a few less (e.g., 297) or more (e.g., 303) may actually get through the printing process and be sent to you. I will bill you for whatever the exact quantity is.
Table of Contents for the 19th Edition
Introduction
Chapter 1: What Is an ESOP?
Chapter 2: Types of ESOPs and Their Financing
Chapter 3: ESOP Tax Incentives
Chapter 4: Uses of ESOPs
Chapter 5: Valuing the Company Stock
Chapter 6: ESOPs for S Corporations
Chapter 7: Contribution and Allocation Limits
Chapter 8: Employee Coverage and Entitlement to Benefits
Chapter 9: Distributing Proceeds to the Participants
Chapter 10: Fiduciary Matters
Chapter 11: The Rights of ESOP Participants
Chapter 12: Is an ESOP Right for Your Company?
Chapter 13: Implementing and Administering an ESOP
Index
Questions?
Contact Scott Rodrick via email only at srodrick@nceo.org.