The Employee Ownership 100: America's Largest Majority Employee-Owned Companies
July 2020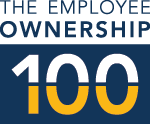 The NCEO's 2020 Employee Ownership 100 list includes the nation's largest companies that are at least 50% owned by an employee stock ownership plan (ESOP) or other broad-based employee ownership plan. Many are 100% employee-owned. Employment includes all full- and part-time employees in the U.S. and worldwide.
The great majority (96%) of the companies on this list have ESOPs, and several of them have more than one plan. Other vehicles for employee ownership on this list include profit sharing plans invested in company stock, stock purchase plans, 401(k) plans, and a worker cooperative.
Seven companies have been added to this year's list, and the companies featured collectively more than 620,000 people worldwide. This year the smallest companies on the list have 1,260 employees. Several companies from last year's list have been removed as a result of smaller employee counts or changing ownership structure, and two employee-owned companies from the 2019 list were sold since our last publication.
Data is collected from direct correspondence with companies, corporate websites, or, if these are not available, the most recent public data available. Companies marked with an asterisk are 100% employee-owned. Additions and corrections are welcome; please contact Director of Culture and Engagement Dallan Guzinski at dguzinski@nceo.org.  We encourage companies on the list to contact their local and trade media to tell their stories. We have sample press material available; contact Dallan Guzinkski.
To sort the table by a particular column, click on one of the headings at the top of the table.
| Rank | Company | City | State | Plan | Start Date | Business | Employees |
| --- | --- | --- | --- | --- | --- | --- | --- |
| 1 | Publix Super Markets | Lakeland | FL | ESOP & Stock Purchase | 1974 | Supermarkets | 202000 |
| 2 | Penmac* | Springfield | MO | ESOP | 2010 | Staffing | 28000 |
| 3 | WinCo Foods | Boise | ID | ESOP | 1985 | Supermarkets | 19000 |
| 4 | Amsted Industries* | Chicago | IL | ESOP | 1986 | Industrial components | 18000 |
| 4 | Houchens Industries* | Bowling Green | KY | ESOP | 1961 | Supermarkets & other services | 18000 |
| 6 | Parsons* | Pasadena | CA | ESOP | 1974 | Engineering & construction | 16000 |
| 7 | Black & Veatch | Overland Park | KS | KSOP | 1998 | Engineering & construction | 11000 |
| 8 | W.L. Gore & Associates | Newark | DE | ESOP | 1974 | Manufacturing | 10800 |
| 9 | Davey Tree Expert* | Kent | OH | 401KSOP & ESOP | 1979 | Tree & environmental services | 10500 |
| 10 | HDR, Inc.* | Omaha | NE | ESOP | 1996 | Architecture & engineering | 10000 |
| 11 | Graybar Electric | St. Louis | MO | Stock purchase | 1929 | Electrical equipment wholesale | 8700 |
| 12 | Schreiber Foods | Green Bay | WI | ESOP | 1998 | Dairy company | 8000 |
| 13 | Brookshire Brothers* | Lufkin | TX | ESOP | 2001 | Supermarkets | 7200 |
| 14 | Rosendin Electric* | San Jose | CA | ESOP | 1992 | Electrical Contracting | 7000 |
| 14 | Travel and Transport, Inc. | Omaha | NE | ESOP | 1991 | Travel management | 7000 |
| 16 | Burns & McDonnell Engineering* | Kansas City | MO | ESOP | 1985 | Architecture & engineering | 6650 |
| 17 | Performance Contracting, Inc. | Lenexa | KS | ESOP | 1986 | Construction | 6300 |
| 18 | EmpRes Healthcare Management* | Vancouver | WA | ESOP | 2009 | Post-acute long term care | 6200 |
| 18 | Scheels All Sports | Fargo | ND | ESOP | 1982 | Retail sporting goods | 6200 |
| 20 | Harp's Food Stores* | Springdale | AR | ESOP | 1988 | Supermarkets | 6010 |
| 21 | Austin Industries* | Dallas | TX | ESOP | 1986 | Construction | 6000 |
| 21 | Gensler* | San Francisco | CA | ESOP | 1987 | Architecture | 6000 |
| 23 | KeHE Distributors | Romeoville | IL | ESOP | 2001 | Food distribution | 5500 |
| 24 | Wright Service Corp. | Des Moines | IA | ESOP | 2002 | Environmental Services | 5300 |
| 24 | Schweitzer Engineering Laboraties* | Pullman | WA | ESOP | 1994 | Engineering | 5300 |
| 26 | Terracon* | Olathe | KS | KSOP | 1991 | Engineering/consulting | 5000 |
| 26 | Acadian Ambulance | Lafayette | LA | ESOP | 1993 | Ambulance services | 5000 |
| 26 | CDM Smith | Cambridge | MA | Profit Sharing | 1996 | Engineering & construction | 5000 |
| 26 | Chemonics International, Inc.* | Washington | DC | ESOP | 2001 | International development | 5000 |
| 30 | Robert W. Baird & Co. | Milwaukee | WI | ESPP | 1984 | Brokerage | 4370 |
| 31 | Hensel Phelps Construction | Greeley | CO | ESOP | 1976 | Construction | 4340 |
| 32 | Cianbro* | Pittsfield | ME | ESOP | 1980 | Construction | 4200 |
| 33 | Lewis Tree Service, Inc.* | Rochester | NY | ESOP | 1998 | Tree services | 4000 |
| 33 | Sammons Enterprises* | Dallas | TX | ESOP | 1978 | Diversified holding company | 4000 |
| 33 | KPH Healthcare Services, Inc.* | Gouverneur | NY | ESOP | 1944 | Drugstores | 4000 |
| 33 | Swinerton Builders* | San Francisco | CA | ESOP | 1962 | Construction | 4000 |
| 37 | Recology* | San Francisco | CA | ESOP | 1985 | Waste management | 3800 |
| 37 | Abt Associates | Cambridge | MA | ESOP | 1975 | Consulting & research | 3800 |
| 39 | Miller's Health Systems | Warsaw | IN | ESOP | 2006 | Nursing homes | 3600 |
| 40 | HNTB | Kansas City | MO | ESOP | 2000 | Architecture & engineering | 3500 |
| 41 | Homeland Acquisition Corporation* | Oklahoma City | OK | ESOP | 2011 | Supermarkets | 3410 |
| 42 | Bi-Mart | Eugene | OR | ESOP | 2003 | Discount stores | 3200 |
| 43 | Challenge Manufacturing Company | Walker | MI | ESOP | 1987 | Automotive Manufacturing | 3000 |
| 43 | Mayville Engineering Company, Inc.* | Mayville | WI | ESOP | 1959 | Engineering & Manufacturing services | 3000 |
| 43 | EVAPCO Inc. | Taneytown | MD | ESOP | 1984 | Manufacturing | 3000 |
| 43 | Krueger International, Inc.* | Green Bay | WI | ESOP | 1991 | Furniture manufacturing | 3000 |
| 47 | McCarthy Building Company* | St. Louis | MO | ESOP | 1996 | Construction | 2720 |
| 48 | TDIndustries* | Dallas | TX | ESOP | 1989 | Engineering, construction, and facility services | 2710 |
| 49 | S&C Electric* | Chicago | IL | KSOP | 1989 | Electrical equipment | 2600 |
| 50 | MyPath (formerly Oconomowoc Residential Programs, Inc.)* | Oconomowoc | WI | ESOP | 2002 | Health & disability services | 2500 |
| 50 | Border States Industries* | Fargo | ND | ESOP | 1984 | Wholesale distributor | 2500 |
| 52 | Jasper Engines & Transmissions* | Jasper | IN | ESOP, Profit Sharing | 2010 | Engine & transmission remanufacturing | 2400 |
| 53 | Paladin Capital | Nashville | TN | ESOP | 2004 | Freight transportation | 2350 |
| 54 | Davis H. Elliot Company | Lexington | KY | ESOP | 2000 | Electrical Contracting | 2320 |
| 55 | People Care Holdings, Inc. | New York | NY | ESOP | 2007 | Healthcare Services | 2300 |
| 55 | Bradford White Water Heaters* | Ambler | PA | ESOP | 1992 | Water heaters | 2300 |
| 57 | Barton Malow* | Southfield | MI | Profit Sharing | 1952 | Construction | 2200 |
| 58 | Westat, Inc.* | Rockville | MD | ESOP | 1977 | Research firm | 2170 |
| 59 | Buehler's Fresh Foods | Wooster | OH | ESOP | 2017 | Supermarkets | 2100 |
| 59 | Columbia Forest Products | Greensboro | NC | ESOP | 1977 | Plywood | 2100 |
| 61 | Reasor's | Tahlequah | OK | ESOP | 2005 | Supermarkets | 2300 |
| 61 | Symbria* | Warrenville | OH | ESOP | 2015 | Health care services | 2000 |
| 61 | Cooperative Home Care Associates | Bronx | NY | Coop | 1995 | Health care | 2000 |
| 61 | George P. Johnson | Auburn Hills | MI | ESOP | 1998 | Event Marketing | 2000 |
| 61 | The Burnett Companies Consolidated, Inc. | Houston | TX | ESOP | 2010 | Staffing services | 2000 |
| 66 | Hypertherm* | Hanover | NH | ESOP | 2001 | Engineering & manufacturing services | 1840 |
| 67 | Sundt Construction* | Tempe | AZ | ESOP | 1972 | Construction | 1800 |
| 67 | Kleinfelder | San Diego | CA | ESOP | 1989 | Engineering | 1800 |
| 69 | Morton Buildings* | Morton | IL | ESOP | 1990 | Fabrication & Construction | 1740 |
| 70 | SRC Holdings | Springfield | MO | ESOP | 1983 | Diversified holding company | 1720 |
| 71 | Medicalodges* | Coffeyville | KS | ESOP | 1990 | Long-Term Healthcare | 1710 |
| 71 | Johnson, Mirmiran and Thompson, Inc. (JMT)* | Hunt Valley | MD | ESOP | 1974 | Engineering & architecture | 1710 |
| 73 | Martin Resource Management Corporation* | Kilgore | TX | ESOP | 2012 | Distribution & transportation | 1700 |
| 73 | Farmers Home Furniture | Dublin | GA | ESOP | 2012 | Furniture retail | 1700 |
| 73 | Brown and Caldwell | Walnut Creek | CA | ESOP | 1962 | Engineering | 1700 |
| 76 | Price Cutter | Springfield | MO | ESOP | 2004 | Supermarkets | 1670 |
| 77 | Garney Company* | Kansas City | MO | ESOP | 1986 | Water & wastewater piping systems | 1620 |
| 78 | The North Highland Company | Atlanta | GA | ESOP | 1997 | Management consulting | 1600 |
| 78 | Dynetics* | Huntsville | AL | ESOP | 1988 | Engineering, science, information technology services | 1600 |
| 78 | Roberts Hawaii* | Honolulu | HI | ESOP | 2006 | Tour bus operator | 1600 |
| 81 | Yoke's Foods, Inc.* | Spokane | WA | ESOP | 1990 | Grocery store chain | 1590 |
| 82 | CCMSI Holdings, Inc. | Danville | IL | ESOP | 1990 | Third-party administration | 1510 |
| 83 | Airborn Inc.* | Addison | TX | ESOP | 1996 | Electronic Connectors | 1500 |
| 83 | American Cast Iron Pipe | Birmingham | AL | Profit Sharing | 1982 | Manufacturing | 1500 |
| 83 | CPES | Tucson | AZ | ESOP | 1994 | Human Services | 1500 |
| 83 | Martin & Bayley, Inc.* | Carmi | IL | ESOP | 1984 | Convenience stores | 1500 |
| 83 | Superior Consolidated | Peoria | IL | ESOP | 1988 | Third-party logistics | 1500 |
| 83 | Travel and Transport, Inc.* | Omaha | NE | ESOP | 1991 | Travel management | 1500 |
| 83 | Holden Industries, Inc. | Deerfield | IL | ESOP | 2007 | Manufacturing | 1500 |
| 90 | American Systems Corp. | Chantilly | VA | ESOP | 1990 | Engineering | 1485 |
| 91 | Armstrong Garden Centers | Glendora | CA | ESOP | 1980 | Garden centers | 1400 |
| 91 | D.A. Davidson Companies | Great Falls | MT | ESOP | 2016 | Investment Advising | 1400 |
| 91 | CCMSI Holdings, Inc.* | Danville | IL | ESOP | 1990 | Third-party administration | 1400 |
| 91 | West Monroe | Chicago | IL | ESOP | 2013 | Management consulting | 1400 |
| 91 | McNaughton-McKay* | Madison Heights | MI | ESOP | 2006 | Wholesale distributor | 1400 |
| 96 | North State Grocery | Cottonwood | CA | ESOP | 2006 | Supermarkets | 1350 |
| 97 | Royal Technologies | Hudsonville | MI | ESOP | 2007 | Components manufacturing | 1300 |
| 97 | Applied Research Associates | Alburquerque | NM | ESOP | 1993 | Engineering research | 1300 |
| 99 | Thrifty White Pharmacy* | Plymouth | MN | ESOP | 1976 | Retail Drugstores | 1290 |
| 100 | Riesbeck Food Markets | St. Clairsville | OH | ESOP | 1986 | Supermarkets | 1260 |
*100% employee-owned